Festival du homard de Shediac Lobster Festival 50/50 Draw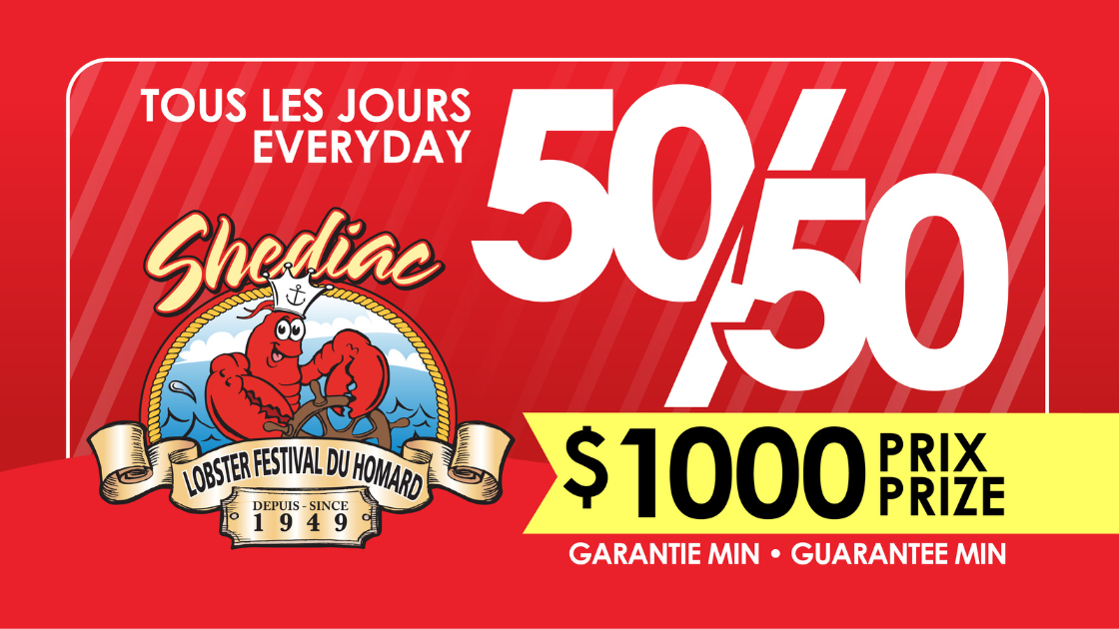 $6,405
Jackpot *
winner takes $3,202
Sales Ended
Sun Jul 09 2023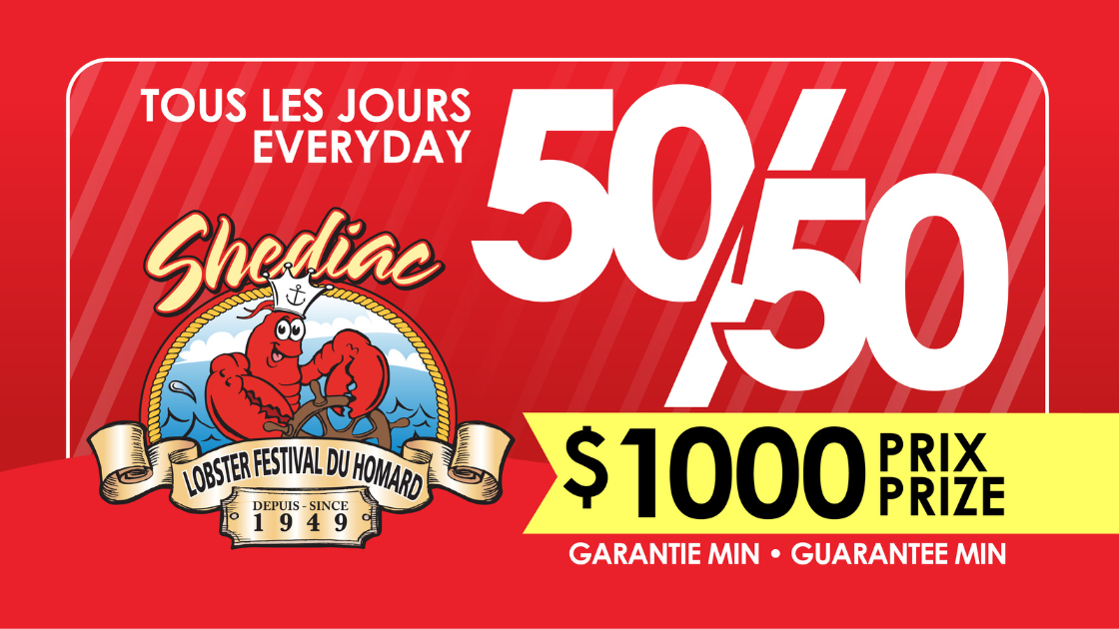 Sales End
Sun Jul 09 2023
Draw Date
Sun Jul 09 2023
Draw Location
Lobster Festival Grounds - 58 Festival street
Winner
Ticket Number: D-3767
Drawn On: Sun Jul 09 2023
Le Festival du Homard de Shediac est ravi d'annoncer notre collecte de fonds en ligne 50/50 ! - Achetez vos billets dès maintenant !
Le Festival du homard de Shediac est en plein essor depuis les 74 dernières années et cela a été possible grâce à l'aide de nombreux bénévoles. Avec le 50/50, nous souhaitons collecter des fonds pour maintenir le festival pendant de nombreuses années à venir et soutenir les organisations bénévoles qui nous aident. Nous croyons en l'entraide. Les fonds récoltés grâce à ce 50/50 soutiendront le Festival du homard de Shediac et d'autres organisations telles que le Rotary Club de Shediac, Les Chevaliers de Colomb, Le Club des Lions de Shediac et Dance Envy.
Le gagnant sera contacté pour réclamer son prix.
Merci de votre soutien.
//
The Shediac Lobster Festival is excited to announce our online 50/50 fundraiser! – Grab your tickets now !
The Shediac Lobster Festival has been going strong for the past 74 years and has been able to do so with the help of numerous volunteers. With the 50/50 we would like to raise funds to keep the festival going for many more years to come and to help the volunteer organizations that help us. We believe in people helping people. Funds raised by this raffle will support the Shediac Lobster Festival and other organizations like The Shediac Rotary Club, Les Chevaliers de Colombs, Shediac Lions Club and Dance Envy.
The winner will be contacted to claim their prize.
Thank you for your support.
Read more
Have questions about how Rafflebox can help?
Fill out our simple form and we'll get right back to you.